Lukyanov Andrey

A little presentation of Lukyanov Andrey:
My name is Andrey. I I live in Crimea (Ukraine). To me 24
years. I work as the engineer.
Origami I am engaged more than 3 years. Has made a collection
of hearts (more than 400 models) for beloved Safie (see photo),
Russian and English alphabets, envelopes, etc.
I very much like to fold pajaritas also. At me too it is a lot of them (more
than 30).
Project LoveOrigami is devoted to my beloved Safie.
I dream to publish the Alphabet with hearts (Russian and English).
This is a personal website of Andrey Lukianov:

| | | |
| --- | --- | --- |
| Heartharrow | | |
| | | |
| --- | --- | --- |
| HeartF | | |
| | | |
| --- | --- | --- |
| HeartGru | | |
| | | |
| --- | --- | --- |
| HeartonHeart02 | | |
| | | |
| --- | --- | --- |
| HeartS | | |
| | | |
| --- | --- | --- |
| HeartsonHeart01 | | |
| | | |
| --- | --- | --- |
| HeartStrip | | |
| | | |
| --- | --- | --- |
| HeartVamp01 | | |
| | |
| --- | --- |
| Flower | |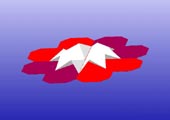 Flower
| | | |
| --- | --- | --- |
| Payarita01 | | |